Invitation Letter to Welcome Banquet for New President of Company
An invitation letter is written to the welcome banquet for many reasons. You may write a letter when the new president of the company becomes functional. Since it is an invitation letter, it should include the details like you include in a traditional invitation letter. Your letter should reflect that the event will be a very pleasant and enjoyable activity and the positive tone should be used while writing the letter.
The invitation letter should include the details of the date, time, place etc. you can also include the menu list and also the time of the serving. The name of the person who you are invited should be written clearly in the letter and also elaborate if he can bring anyone guest with him or not. Some invitation letters also include the name of attendees. The tone of the letter should be courteous and the feeling of joy at their arrival should be shown. Also, ask them to reply before the date. The letter should be brief and avoid adding extra details in it.
LETTER
Dear [Recipient's Name],
I would like to invite you and your guests to the banquet in order to welcome the new president of our company. The banquet will be held at [write the address and time]. I would like you to fill our R.S.V.P and give it back to the receptionist of our company before the date so that we can confirm your arrival. We need a quick response to ensure that we have a sufficient number of seats in the banquet.
Regards,
Peter Carlos
[Senders Title] -Optional-
Download Details: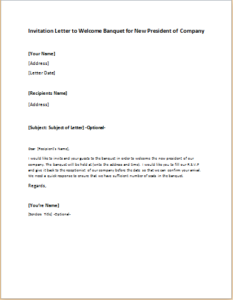 Invitation Letter to Welcome Banquet for New President of Company

Size: 25 KB Word .doc File 2003 & later
Download
Size: 198 KB PDF File
Download
[personal use only: Not for Resale & Distribution]