Landlord Termination Letter to the Tenant
A fixed time tenancy cannot be ended by the landlord before time. However, the tenancy agreements in which the ending date is not specified can be terminated by the landlord by sending a notification. The law suggests that
Whenever such termination notices are issued, they should be presented in written form.
The tenant should be notified of the termination 60 to 90 days before the termination date.
A landlord cannot ask a quick evacuation by sending speedy notices.
Termination letters are important if a landlord wants to end a tenancy contract with his tenant and particularly when he is not interested in making a new contract with him. Below is one such sample.
Landlord Termination Letter to the Tenant
[Your Name]
[Address]
[Letter Date]
[Recipient's Name]
[Address]
[Subject: Subject of Letter] -Optional-
Dear [Recipient's name]
You have been living in my house for the last 7 years. At the time you rented it, you requested that the end tenancy date should not be mentioned as you were not sure for how long will you remain in this city so I just left it. Dear [enter name], I want to inform you that due to the financial crisis; I am selling all my property and moving to another town. Because I have to sell this house too, I am terminating the tenancy agreement on the [enter date]. You have three months to look for another place for yourself since I shall be selling my property by the end of this year. If you can afford to buy the house, I shall be more than happy to sell it to you than to anybody else but the tenancy agreement is nonetheless going to be terminated on [enter date]. Inform me of your plans within a week. Thank you!
Sincerely,
[Your Name]
[Your Title] -Optional-
Download Details: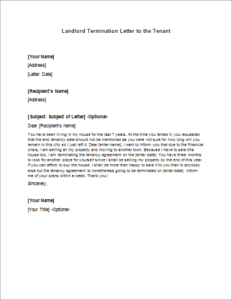 Landlord Termination Letter to the Tenant
Size: 30 KB Word .doc File 2003 & later
Download
Size: 242 KB PDF File
Download
[personal use only: Not for Resale & Distribution]