Letter Announcing a Meeting about a Book Keeping Program
When you are planning to start a bookkeeping program, the first thing that will come to your mind is to call the staff and to take their suggestions. This type of letter is usually written when you want to call someone or the staff for the special meeting or for the emergency meeting in order to make discussion on the bookkeeping. The letter is completely formal and it contains no unnecessary detail in it. The details which are important should be mentioned clearly in the letter. Make sure that you don't miss out any important detail in the letter.
The main purpose of giving all the details in the letter is to make the reader understand that what is going to be discussed in the meeting and how. This enables the reader to make some important points related to the meeting and he can be mentally prepared for the meeting. Mention the details of the bookkeeping program in the letter with very brief description. It should also be stated in the meeting that whether it is an emergency meeting or a special meeting.
The purpose of the meeting, time, date, location and some other details should be discussed in the letter briefly. You can also ask the reader to come with preparation in the meeting and it is important for the reader to attend the meeting. End the letter with the positive note and tell the reader what you are expecting from them.
Letter Announcing a Meeting about a Book Keeping Program
[Your Name]
[Address]
[Letter Date]
[Recipients Name]
[Address]
[Subject: Subject of Letter] -Optional-
Dear [Recipient's Name],
The company has decided to start a new bookkeeping program and it has been decided to process this program the 20th of this month. All the team members of the bookkeeping department are asked to attend the meeting tomorrow at 12 p.m. Every member of the bookkeeping department is required to take the training session which will be held on this weekend.
[Your Name]
[Senders Title] -Optional-
Download Details: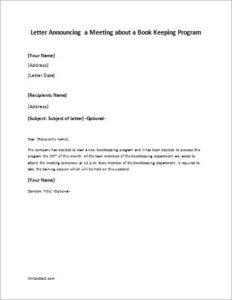 Letter Announcing a Meeting about a Book Keeping Program

Size: 23 KB Word .doc File 2003 & later
Download
Size: 123 KB PDF File
Download
[personal use only: Not for Resale & Distribution]