Letter Announcing a Monthly Budget Meeting
The monthly budget meeting is the main part of any organization. This is the meeting which is held in almost every month after the notification. So this letter is actually the announcement of the meeting which is expected by everyone working in the organization. Although the agenda of the meeting is quite clear to the people since the meeting is based on monthly budget, still you can mention the agenda in the letter. If you have planned something new about the monthly budget of the company you can mention this in the agenda.
The main purpose of adding and updating the agenda in the meeting is to make the reader of the letter mentally prepared for the meeting then he can also take some time to make important points to be discussed in the meeting. The details of the agenda can be added within the body of the letter, however, If the agenda is long then you can make a separate page for the agenda and then can attach that page to the letter.
The letter should also include some other details related to the meeting such as time, date and the location. The main objective of writing this letter is to inform the reader about the meeting. If there are some additional things which are required to be discussed in the meeting, do mention them in the letter but keep that in mind that the letter should not be too long. End the letter with the positive message.
Letter Announcing a Monthly Budget Meeting
[Your Name]
[Address]
[Letter Date]
[Recipients Name]
[Address]
[Subject: Subject of Letter] -Optional-
Dear [Recipient's Name],
Our monthly budget meeting will be conducted on coming Friday at 1 p.m. our managers will be leading the meeting along with our German branch through video conferencing. The meeting is directly related to the building project and we will be happy to see anyone from this department. Please make it sure that all the team members are ready to come in the meeting and are ready to update on the recent status of the building project. Please ensure that you assistant will provide all the necessary details which you will be needed in the meeting.
[Your Name]
[Senders Title] -Optional-
Download Details: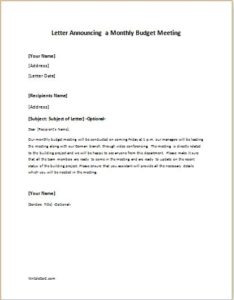 Letter Announcing a Monthly Budget Meeting

Size: 33 KB Word .doc File 2003 & later
Download
Size: 317 KB PDF File
Download
[personal use only: Not for Resale & Distribution]