Letter Announcing an Increase in the Monthly Rent
Rent and lease are almost the same. The main difference is that the lease agreements are for the long term while the rental agreements are usually on monthly basis.
The monthly rent can be increased as per the contract conditions but the lease agreements do not allow an increase in the payment unless another new agreement is signed. In order to increase the monthly rent, a landlord has to write a notification letter first to inform the tenant that the rent has been increased.
Rent increase announcement with reply
I hereby notify you that with effect from the 1st of April 2018, your monthly rent will be raised from $1200/- to $1500/-.
I am sorry to take this step but owing to the general increase in the rates of rents as well as the cost of building material. I have been forced to do this.
I hope you will appreciate my difficulties.
Yours faithfully.
Reply to above
With reference to your letter Dated: [DATE], I beg to inform you that you cannot raise the rent under the Rent Control Act. Please, therefore, note that I am not going to pay you at the enhanced rate. You are, however free to take the matter to a competent Court for judgment.
Rent from next month will be sent to you by M.O or redeposited in Court.
Another Letter
At the time of the agreement, I had agreed to not raise the rent for two years. Two and a half years have passed and I hope you will not mind if an increase in the rent is now made.
As you know, my living is dependent on the rent money of the apartment that I have rented to you, I am now finding that I need to increase the rent to meet my increased expenses due to health issues.
Because the limit of two years has also passed, I am increasing the rent from $1200 to $1400.
This is also according to the current rent rates in the market. I hope that you will not have issues to accept this increment. Kindly note that the next rent shall be according to this newly settled rate i.e. $1200. For any discussions, you can come to meet me anytime at my house.
Sincerely,
Download Details: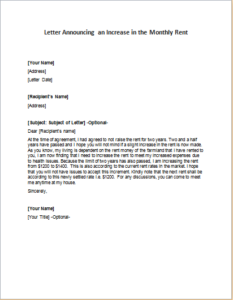 Letter Announcing an Increase in the Monthly Rent

Size: 30 KB Word .doc File 2003 & later
Download
Size: 242 KB PDF File
Download
[personal use only: Not for Resale & Distribution]