Letter Announcing Death of an Employee
Death can come at any time to anyone. In businesses, the death of an employee affects the business as a whole especially if the deceased was an important position. In such an accidental situation, the employees should be informed about the death of their colleague.
Letter to inform about the death of an employee is not merely to inform about his death since memos are used for that purpose. The purpose of a letter is to inform about the death as well as the emergency measures that should be taken in order to compensate the absence of the deceased person since businesses are businesses. They have to continue their work nonetheless.
Death Announcement Letter
E-mail Press Release to Media
Wednesday, January 5
9:00 a.m.
Biff Isaak, chairman of the Board of [Company Name], died early this morning at [HOSPITAL NAME].
Mr. Isaak, 80, had been taken to the hospital last night complaining of chest pains. According to his family, he passed away at about 5:15 a.m., apparently as the result of a heart attack.
"We join Mr. Isaak's family in this great loss," said [Company Name]'s President and Chief Executive Officer Daniel Keyes. "He will be deeply missed. Our thoughts and prayers are with his wife Karen and the rest of his family."
Announcing Death of a Colleague
You will be grieved to learn that my esteemed partner, Mr. A. G. Rachdan passed away on Wednesday last.
As his widow and children are no longer interested in Steel Force Co. their share is proposed to be paid off. If anybody has any claim against my late partner, it should please be intimated to us within seven days from today so that it can be settled before a settlement is made with the aforesaid claimants.
We will, however, continue to trade under the same name, and on the same lines as heretofore. We hope you will continue to favor us as you have been doing in the past.
Thanking you for the patronage.
Yours faithfully,
Possible Reply to Above
We are pained to learn about the death of A.G. Rachdan. Kindly convey our sympathies to the bereaved family. We have no business claims on him in his individual capacity.
We assure you our commercial dealings will remain unaffected.
Yours faithfully,
Letter Announcing Death of an Employee 
Dear (Recipient's Name),
This letter is to inform you about the death of Mr./MS [enter name]. He/She passed away yesterday due to [enter reason]. It is no doubt a big loss. We have lost a good human being and we will not be able to find as an honest and responsible employee as he/she was. I have planned a gathering in the memory of Mr./MS [enter name] to pay tribute to his/her services.
I would also like to inform you that we'll start interviews this week to recruit for the seat that our respected employee has vacated. If any of you is interested, submit your proposal letters. Meanwhile, Mr./Ms. [enter name] will take his office. Thank you!
Stephan Frances
[Senders Title] -Optional-
Download Details: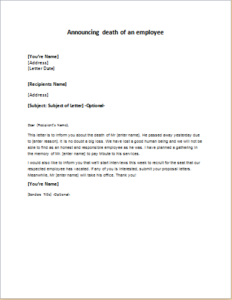 Letter Announcing Death of an Employee
Size: 25 KB Word .doc File 2003 & later
Download
Size: 185 KB PDF File
Download
[personal use only: Not for Resale & Distribution]