Letter Confirming the Cancellation of a Savings Account
Just like you can open saving accounts by choice, you can also cancel your accounts. But this is not done overnight. Since banks work according to some rules and regulations, they want you to first request them to cancel your saving account which is a deposit account that pays you interest. It takes a little bit of time to complete the official statements and documents and the bank then writes to you regarding the confirmation of the cancellation of your account. A letter confirming the cancellation of a saving account is written for this purpose. Once a saving account is canceled, the client no more receives the interest and is then allowed to withdraw his money or keep it in a current account with no interest.
Letter Confirming the Cancellation of a Savings Account
[Bank's name]
[Address]
[Letter Date]
[Recipients Name]
[Address]
[Subject: Subject of Letter] -Optional-
Dear [Recipient's Name],
We received your letter on [enter date] requesting to cancel your saving account with us which is [enter account no]. After completing the official necessities, we are hereby notifying you that your saving account [enter account no.] has now been canceled. After the cancellation of your saving account, you'll no more be able to receive the interest per month that you were receiving earlier. You will be able to withdraw your money by [enter date]. Find the enclosed documents for details. We also encourage you to take a look at our new services. A document introducing the new services is also enclosed.
For any queries please contact at our toll-free number 123-4567-8901. We're always happy to serve you. Thank you!
[You're Name]
[Senders Title] -Optional-
Download Details: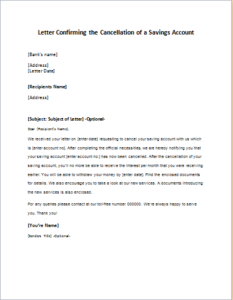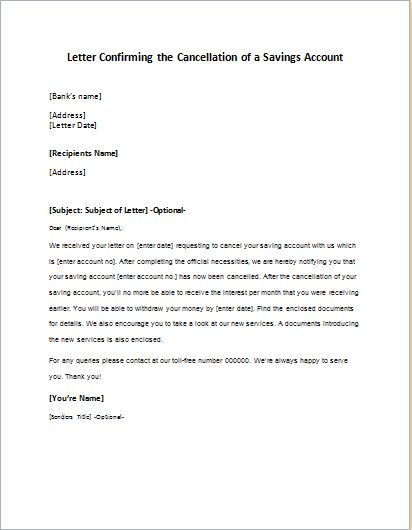 Letter Confirming the Cancellation of a Savings Account

Size: 26 KB Word .doc File 2003 & later
Download
Size: 285 KB PDF File
Download
[personal use only: Not for Resale & Distribution]