Letter for Delegating Task to Someone during Absence
This type of letter is specifically written for one person whom you want to assign the task. Make sure that you have added all the details related to the task which you are going to delegate to the reader. You can also include the instructions to get the task done. Adding the subject in the letter can grab the attention of the reader and then he will read the letter with interest. You should add the subject in the letter. If there are multiple tasks to be delegated to the reader, then all the tasks can be enlisted. The list of tasks can either be included within the body of the letter or can be attached separately to the letter.
Moreover, you can also add the deadline. Adding the deadline is not necessary, however, if you want the task to be done early, then you can give the deadline. The tone of the letter should be formal and it should not be too long. The way you want the reader to work to accomplish the task should be explained in the letter in clear words.
If you are ready to provide all the assistance to the reader, do mention this in the letter. This will motivate the reader. The letter should be checked for all the grammatical errors before sending. The letter should be ended with the positive message that you expect that the reader will complete the task in time.
LETTER
Dear [Recipient's Name],
As I must go to another city for an official visit and I want you to be the in-charge of my all responsibilities of the Northern division. You are great in handling my responsibilities. I will also provide an assistant. He will help you in everything whenever you will need. For any kind of confusion, you can contact me on my phone number.
Thanks in anticipation.
[Your Name]
[Senders Title] -Optional-
Download Details: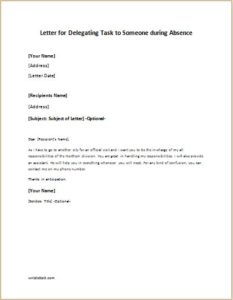 Letter for Delegating Task to Someone during Absence

Size: 33 KB Word .doc File 2003 & later
Download
Size: 311 KB PDF File
Download
[personal use only: Not for Resale & Distribution]