Letter Inquiring about a Program for Foreign Nurses
Every year a lot of student exchange programs, as well as internship programs in different fields, are offered abroad. This is always a great opportunity to learn and excel in one's field. Same is the case with the nursing department. It is of prime importance that one must avail an opportunity like this. Letters are written in this regard to apply or inquire about such programs. Following letter can be used for this purpose.
Letter Inquiring about a Program for Foreign Nurses
[Your Name]
[Address]
[Letter Date]
[Recipients Name]
[Address]
[Subject: Subject of Letter] (optional)
Dear [recipient's name],
A couple of days ago, in the [school/college/hospital] magazine an article on the program for foreign nurses was published which drove the attention of most of the nurse students who are about to graduate in a few months. This letter has been written specially to inquire about its authenticity and to know some more details about this program. I am a final year student of BS program of nursing in this institution and I would really want to avail the opportunity of this foreign program. There are quite a few other batchmates of mine that are also interested in this program and would really want to know the complete information about its whole criteria. I would really appreciate a quick response to this letter. Kindly let us know about the due dates for the applications as well. We would be looking forward to your response. Thank you!
Yours Sincerely,
[Your Name]
[Senders Title] -Optional-
Download Details: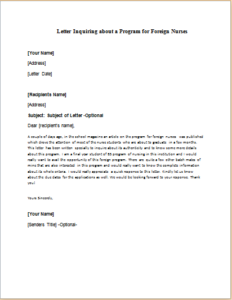 Letter Inquiring about a Program for Foreign Nurses

Size: 23 KB Word .doc File 2003 & later
Download
Size: 181 KB PDF File
Download
[personal use only: Not for Resale & Distribution]