Letter of Advice to Client
Clients sometimes seek advice from professionals, for example; professional lawyers, business tycoons, successful landlords etc. The purpose of writing an advice-seeking letter is to share a specific matter with the person in private via letter and to request him to give an advice regarding that. When a professional receives a letter seeking advice, it is among professional norms to write a response letter to the client giving him an advice.
The letter that is written to a client in order to advise him should be written in business letter format, using proper tone. Since the client honors the person by choosing him for advice, the letter should contain thanks for the client. Also, note that the adviser should not declare his advice the only solution rather humbly inform the client that his advice is such and there may be other better solutions. This gives a good impression to the client.
Letter of Advice to Client
Dear [Recipient's Name],
I have received your letter on [enter date]. I am honored that you have sought an advice from me regarding [enter matter]. I won't call my advice the only solution, however, as far as I have looked into the said matter I think, the best solution, in this case, is to [enter advice]. I am suggesting this to you in the light of my years of experience and with full responsibility. I also encourage you to look for other solutions and then decide what you should choose for yourself. I have, however, given you an advice on my part in detail. Please accept my gratitude for consulting me. Thank you!
[Your Name]
[Senders Title] -Optional-
Download Details: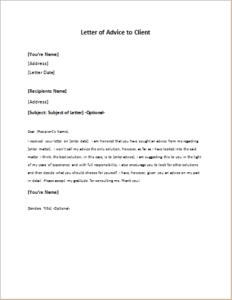 Letter of Advice to Client
Size: 25 KB Word .doc File 2003 & later
Download
Size: 185 KB PDF File
Download
[personal use only: Not for Resale & Distribution]