Letter of Applying for a Position
The letter of application is the first correspondence that you have with your employee. This letter is written when a person sees a position and thinks that he is capable of working on this position and wants to apply for it. It is very important to write the letter in a better way because a well-written letter gives the best introduction of the employee and also layouts a ground on the basis of which a candidate is selected for the position.
This letter is nothing to do with the personality of the candidate and the main focus of the letter is to elaborate the qualification and the achievements of the candidate. Try to highlight the most important skills that you have. The letter of applying for a position is actually an answer letter to a job position which was published in a newspaper. Try to convince that employee that you can be the best member of his team and can serve him in a better way.
Letter of Applying for a Position
Dear [Recipient's Name],
I am writing this letter to apply for the job of [sales manager]. I believe that I am an excellent fit for this position. In my previous job, I worked as a [sales manager] for more than [3 years]. I did various types of work and learned a lot. I believe that I can be the best person who can excel in this job position. My skills include [Detail Here].
I have the experience of creating a positive environment which makes the working of myself and others very smooth. I am looking for your response.
Regards,
[Your Name]
[Senders Title] -Optional-
Download Details: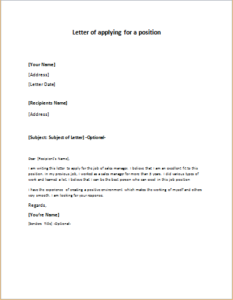 Letter of Applying for a Position

Size: 25 KB Word .doc File 2003 & later
Download
Size: 203 KB PDF File
Download
[personal use only: Not for Resale & Distribution]