Letter of Approval for a Leave
There are times when we want an off time from work. It is sometimes due to an emergency, sometimes for attending an event or party and mostly to refresh ourselves by getting a holiday other than Sunday. In professional setups, taking leave is not easy but nonetheless, it is granted. However, in order to get a leave from work, a leave letter should be written.
A leave letter is then followed up with an approval letter [only if it is approved] by an employer and yeah! you can now enjoy the leave.
Approval of a leave can be made in two ways
General approval: It is for the employees who have completed their assignments and tasks and have not availed their allotted leaves.
The letter should be written with a little lighter tone so that the employee may know that the leave is granted happily. The dates for which the leave is approved should be written clearly and it is also recommended to tell the applicant why you're granted the leave i.e he has been continuously working for many months without a leave, he has been working brilliantly etc.
Conditional Approval: This approval is granted to those employees who have availed their leaves or have their projects going on but need leave(s) due to an emergency.
These letters are written to grant leave on some conditions. It may require an employee to stay online to assist the staff or spare some extra hours after s/he joins back to complete the tasks.
Leave Request
Dear [Recipient Name]
It is requested to grant me leave from [DATE] to [DATE].
As per our discussion we had on Thursday about my travel to meet the family I am putting my request to be absent from the office for the said days.
Leave at this time of the year may cause a problem for the completion of ongoing projects but it is inevitable for me to travel. I have discussed with David to keep in touch for as much as I can assist him during my absence.
Replying to Leave Request
#1
I have reviewed your application for the absence from the office.
The reason you have mentioned in the application is convincing and I can grant you leave for the said days. Please make sure that you will be back to work on the day you have mentioned in the application.
For the project [NAME] I would like you to stay in touch with David for any assistance as the project is in the final phase of completion.
#2
Your leave has been approved.
In February you have taken 5 days off for the reason you mentioned in the last application.
The company policy allows [X] days that you can take a leave of absence. The dates that you have mentioned in your application meets with the policy and make it total [X] day(s) leave quota completed. Now
After the said leave(s) you have no days to be left in your account to go off.
For further leaves, employment policies will implement which includes salary deduction etc.
Make sure you mark your presence on the said day.
#3
It is to notify you that your leave has been approved. You're granted a leave of [X] days from [enter date] to [enter date]. You have been working hard and I appreciate your responsibility towards your work so, I am happily granting you this leave.
Please submit the keys of your cupboard at my office so that in case any documents are required we could easily retrieve them.
Enjoy yourself!
Stephan Frances
[Senders Title] -Optional-
Download Details: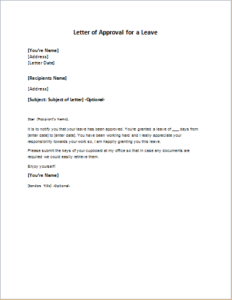 Letter of Approval for a Leave

Size: 25 KB Word .doc File 2003 & later
Download
Size: 191 KB PDF File
Download
[personal use only: Not for Resale & Distribution]