Letter of Invitation for a Car Demo
Most of the professional invitations are sent through letters. Whether you have to introduce a business, make an announcement or hold an exhibition. The easiest way to send out personalized messages is through writing and sending letters to your selected target audience. When you are inviting people to a certain event, make sure you provide them with ample information to spark an interest. If you are unable to get them interested in your event, chances are that they will not attend it. Support your invitation with a few brochures and flyers. They must have enough interesting information about the event. Talking about the benefits of being a part of that exhibition is also very important. For instance, if you are inviting someone for a car demo, you need to tell them about the importance of being up to date.
Letter of Invitation for a Car Demo
Energizers Motors Ltd.
Andy Page
Block 5C, Pearl Avenue, Albany, New York
7th October, 2016.
Mr. Palm Long
Dotty Automobile Ltd
6 St. Clifton Avenue, New York
Dear [Recipients Name],
We are proud to announce that we are holding an exclusive car demo this weekend. All the Who is who of the automobile industry are on board with us and will be joining us on this fabulous event. It will be our pleasure to have your esteemed presence at the demo. Our car demo will be a day long program. The details of the schedule are enclosed. The venue details are also elucidated in it. Also enclosed are the broachers of our partners and sponsors. The car demo will not only increase the knowledge about our new models but will also give all the participants to take a driving test and endorse the quality and class of our new editions. Our company will also provide a pick and drop facility to the attendees. If you would like to avail this facility, please let us know one day in advance. You can also contact me in a case of regret.
We would like to have the honor of your company at our car demo.
Sincerely,
Andy Page, Manager Communications, Energizers Motors Ltd.
Download Details: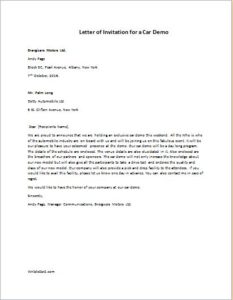 Letter of Invitation for a Car Demo

Size: 33 KB Word .doc File 2003 & later
Download
Size: 307 KB PDF File
Download
[personal use only: Not for Resale & Distribution]