Letter of Motivation and Encouragement to Employees
Employees are your real power. Without them, neither your individual efforts nor your wealth benefits you. The voltage comes from your staff; your employees. But to make the most out of your employees, you have to work on them and should keep working on them to let their morals and motivations remain high. For work, motivation and encouragement are something that if lack, bulldozes the hopes that you have with your employees and that they have with you. This is because without giving regular doses of encouragement and motivation to your employees, you'll most probably be building castles in the air since your employees would fail to produce the quality work necessary for the field competition. Therefore, It is important to realize the importance of motivation that pushes employees to work with devotion and concentration.
LETTER
Dear employees,
Congratulation! I'm very glad to announce to you that according to the recent analytics, within one year, we have come side by side with the tycoons of our field. This couldn't have become possible if there was not the devotion and tireless effort of all of you at the background. Accept my deepest gratitude for this. Also, as it is to your knowledge that we are working on the most important projects of this month, I request you all to not lose focus and stay fully concentrated on the tasks until they appear in the list of our successful projects. We need to put in a collective effort and the time is near when our company will be the most successful corporations of the time. Remember, hard work always pays off. We'll celebrate our success soon. Keep working hard. Thumbs up!
Sincerely,
[Your Name]
[Senders Title] -Optional-
Download Details: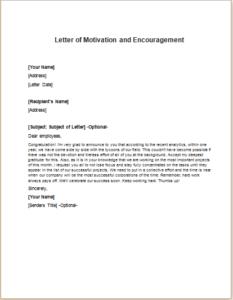 Letter of Motivation and Encouragement to Employees
Size: 25 KB Word .doc File 2003 & later
Download
Size: 160 KB PDF File
Download
[personal use only: Not for Resale & Distribution]