Letter of Sympathy for an Accident
You can write a letter of sympathy for an accident to your friends, family, or acquaintances in case you are away when they face a hard time in terms of an accident. Remember that apart from sympathizing with them, you also have to explain to them briefly why could you not meet them at their place or in the hospital since they are in a physically unfit condition, they are desperately in need of emotional support. Even if you are unable to meet them, leave a sympathy letter as soon as possible so that they may know that you care for them.
Letter of sympathy for illness
We are all sorry to hear that Liza is confined to bed with illness. We need hardly tell you that we are deeply concerned about this. Our prayers for her early recovery are with you. Please let us know without delay or hesitation if we can be of any use to you in your present suffering.
We are worried about the children of Liza. What a heavy extra burden it must be on your shoulders to look after them when their mother is lingering between life and death. Kindly send them over here. It will be not troubling to us to take care of them. As Liza has been a second mother to my children, I can be a second mother to her children.
Anxiously waiting for an early reply.
Reply to above
Thanks for your sincerest expression of sympathy over the illness of Liza. All things are being managed as best as possible. We shall inform you when we need your help.
Everything rests in the hand of God.
Sympathy for invalid for life
We are distressed to hear that you have been struck by paralysis and rendered invalid for life. Could we be of some help to you? On such occasions, one is often hard put to be able to manage. We are thinking of you every day and wondering how do you do. We shall call from time to time to learn about you.
Yours sincerely.
Reply to above
Now that I have recovered enough health to be able to sit up in bed. I would like to thank you for the lovely flowers you sent every other day during my illness. They were dainty and delightful to see. They will remain fresh forever in my mind. It was good of you to have thought of me during my illness. I appreciate your concern. Fortunately, I am improving though at a snail pace it will be long before I am up and doing. Nevertheless, my thanks are due to you.
Yours sincerely.
Letter of Sympathy for an Accident
I received the news of your accident. It was breathtaking to hear that you got serious injuries and remained in the intensive care unit for a whole week. I thank God that He saved you. There was an extreme restlessness since the time I heard about your accident and now I desperately want to meet you but as you know my job allows me only a few works leave in a year.
I have already taken them and because the schedules are also very tough these days, rare is the chance that I will get another leave now. Accept my apologies that I am not there with you at this time of need. I hope that you understand since you are my best friend.
I am sending you this humble gift with my letter and I want you to open it yourself. Please accept my heartiest sympathies for what you've suffered and I am once again thankful to God to make me fortunate enough to have you as a friend. I will visit you as soon as my leave is approved. Till then, take care of yourself.
Sincerely,
Download Details: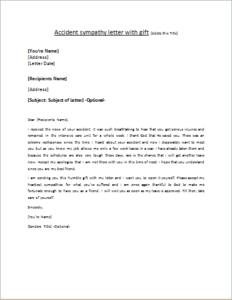 Size: 28 KB