Letter Providing Information to a Client about His Account
Banks deal with hundreds of clients at a time. Every single client has his own idiocentric account requirements and account details. Clients sometimes request to know about their account details. Though in the conventional online banking, a client is informed about every single action on his account via text message, however, people with large accounts and huge transaction and billing have extra details which they sometimes request from the bank in order to use them for documentation purposes, to review their records or to look for any suspected errors. In response to such a request, a letter to inform a client about their account details is written. This letter can be used in order to provide information to a client regarding his account.
Letter Providing Information to a Client about His Account
Sara Alfred
[Address]
[Letter Date]
[Recipients Name]
[Address]
[Subject: Subject of Letter] -Optional-
Dear [Recipient's Name],
It is to inform you that you made a request in order to know the current details of your account. Being your customer service representative, I have checked your account details. After looking into your account, I am hereby informing you that the current credit in your account is [enter amount], while your credit limit is [enter limit]. You are subjected to the monthly billing of [enter amount] and you made the last transaction on [enter date]. All these details are according to today's record.
The detailed documents are enclosed with the letter.
For further queries please contact at 123-4567-8901.
Sara Alfred
[Senders Title] -Optional-
Download Details: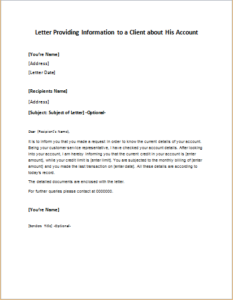 Letter Providing Information to a Client about His Account

Size: 25 KB Word .doc File 2003 & later
Download
Size: 200 KB PDF File
Download
[personal use only: Not for Resale & Distribution]