Letter Requesting a Change in a Contract or Agreement
While the contracts and agreements are legal documents, they are not unchangeable. As long as the involved parties want it can be changed as many times. It is sometimes after the signing of a contract that one realizes some changes need to be made or something important was missed. A change is then required and should be made in the time since contracts are legal documents and they cannot be taken non-seriously. This is a sample letter to request a change in a contract regarding hotel renovations.
Letter Requesting a Change in a Contract or Agreement
[Your Name]
[Address]
[Letter Date]
[Recipient's Name]
[Address]
[Subject: Subject of Letter] -Optional-
Dear [Recipient Name],
Thank you for sending the contract letter promptly. Everything is perfect except one. After a meeting with you, I had a visit to the hotel with my advisor. Earlier with you, I had finalized the installments of electric stairs on all floors. Later, I was suggested by the staff to install lifts instead of stairs. I wanted to inform you about the change in our decision this evening but I have now received your contract letter. Since the contract that you have sent mentions the installment of stairs and therefore the estimated expenses are also according to it, I want you to kindly change the contract a bit. We now do not want electric stairs but lifts. I shall be grateful to you if you resend the contract with the suggested changes and the new estimated expenses. Looking forward to hearing from you. Thank you very much.
Sincerely,
[Your Name]
[Your Title] -Optional-
Download Details: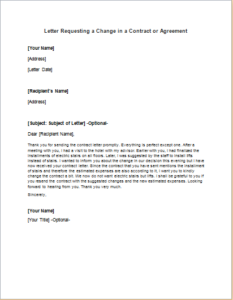 Letter Requesting a Change in a Contract or Agreement 
Size: 27 KB Word .doc File 2003 & later
Download
Size: 161 KB PDF File
Download
[personal use only: Not for Resale & Distribution]