Letter Requesting a Copy of an Official Document
This is a letter written to request a copy of an official document. In some cases where the owner loses an original document due to some reason, this kind of letter is written in order to request the authority for the saved copy of that document. This letter will begin with the information of the required documents mentioned clearly. Some institutions have different policies about the transcripts and other important documents, one most know the details of such rules before writing the letter. The letter body is written below.
Letter Requesting a Copy of an Official Document
[Your Name]
[Address]
[Letter's Date]
[Recipient's Name]
[Address]
[Subject: Subject of Letter] –optional
Dear [recipient's name],
Greetings. My name is Clark Edison and I am a proud graduate of Houston Law School. Recently, in an unfortunate incident, my house caught on fire. Luckily there was no loss of life but the entire house with all of the stuff was burnt. The original copy of my diploma [ENTER DETAILS] was among the belongings that were destroyed by the fire.
Now when I have decided to start a new life after recovering from that drastic accident, I need a copy of my official documents from Houston Law School to continue my studies. I am quite aware of the charges for these documents according to the rules. I have enclosed a money order of 50$ and to help you access my documents my registration number is [27C-2156ilm]. I want these documents to be sent at the following address. My address is [Sender's address]. I would appreciate if it doesn't take too long.
Thank you very much.
Yours Sincerely,
[Your Name]
Download Details: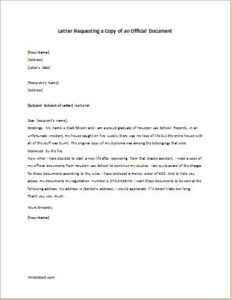 Letter Requesting a Copy of an Official Document
Size: 38 KB Word .doc File 2003 & later
Download
Size: 122 KB PDF File
Download
[personal use only: Not for Resale & Distribution]