Letter Responding Positively to a Suggestion Follows Up
This letter is written when you have accepted someone's suggestion and now you want to inform them about it. It is the right of the reader to know whether the suggestion proposed by him has been accepted or rejected. The most important aspect of the letter is to communicate with the reader in such a way that he can understand what you try to express through the letter. One of the most important parts of the letter is the subject of the letter which can grab the attention of the reader. Explain how beneficial you have found the suggestion of the reader.
The letter should not be too long and the language that you will use in the letter should be simple and precise. The tone of the letter should be formal. The suggestions given by the reader should be analysed in details so that you can mention any point from it in the letter. Appreciation of the reader is very important. Appreciate them well since they have invested their valuable time in suggesting you some useful ways. Also, thank the reader. The letter should express your gratefulness on the advice of the reader.
Express your interest in helping you and try to communicate well with the reader. Also, explain the advantage which you have acquired after applying his/her suggestions. End the letter with the positive message and thank the reader again. It is very important to have an error-free letter. In order to make the letter accurate grammatically.
Letter Responding Positively to a Suggestion Follows Up
[Your Name]
[Address]
[Letter Date]
[Recipients Name]
[Address]
[Subject: Subject of Letter] -Optional-
Dear [Recipient's Name],
We really appreciate your suggestion regarding the drinking foundations. We have accepted your suggestion and now we are thinking to install new drinking foundations after we are considering the whole cost of the project. We would like to say thanks to you for bringing the main task in our consideration and for investing your time in giving us the valuable suggestion.
[Your Name]
[Senders Title] -Optional-
Download Details: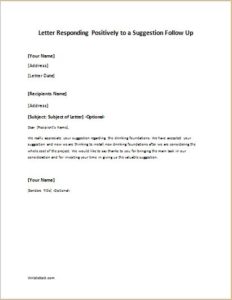 Letter Responding Positively to a Suggestion Follows Up

Size: 21 KB Word .doc File 2003 & later
Download
Size: 130 KB PDF File
Download
[personal use only: Not for Resale & Distribution]