Letter to Call a Meeting for Office Problems
The letter is usually written when an organization is facing lots of problems and the stakeholders of the organization want to sit together to discuss the matters so that any solid solution can be found. The letter should be written in serious tone since it is conveying a very serious message to the readers. The tone of the letter should be polite and soft and it should express real concerns about the problems which are being faced these days by the company.
The language of the letter should be simple so that the reader can easily understand the message being conveyed through the letter. It is good to add the subject in the start of the letter to grab the attention of the reader. Explain the problems which are being faced by the company and tell how harmful these problems can get with time if not resolved on time.
Tell the reader that you want to discuss the problems and their potential solutions in the meeting. Telling the agenda of the meeting in advance can make the reader prepare some points to be discussed in the meeting. Since you are inviting the reader to the meeting, it is necessary to give the details of the meeting such as time, date, location and the agenda. End the letter on the positive note and best wishes and tell the reader that you expect them to be in the meeting on time.
LETTER
Dear [Recipient's Name],
As you know the company is facing a serious financial crisis because of many reasons and these problems are getting worse with time. I fear we will have to close our company if these situations persist. I want you to join me in meeting tomorrow at 4 p.m. We will discuss some important matters and apply some strategies which can be helpful for us in future.
[Your Name]
[Senders Title] -Optional-
Download Details: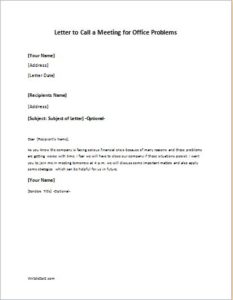 Letter to Call a Meeting for Office Problems

Size: 21 KB Word .doc File 2003 & later
Download
Size: 306 KB PDF File
Download
[personal use only: Not for Resale & Distribution]