Letter to Cancel a Health Insurance
Insurance policies are taken to keep one's self on a safer side in case a property, wealth or health is subjected to loss. While the insurance companies usually do not restrict their policyholders regarding the cancellation of a policy, insurance can, therefore, be canceled anytime. It should be remembered that no one but the policyholder can request the cancellation and if there are multiple people involved as policyholders, it is the primary participant who is only one usually that holds the right to cancel the policy. When a policy is canceled, the insurer is required to return all the premiums that have been paid by the policyholder earlier. Charges for the cancellation or prompt cancellation may apply according to the company's rules. Also, the priory paid premiums are returned with deduction as per mentioned in policy rules.
Letter to Cancel a Health Insurance
[Your Name]
[Address]
[Letter Date]
[Recipient's Name]
[Address]
[Subject: Subject of Letter] -Optional-
Dear [Recipient's name]
My name is [enter name] and I had taken health insurance from your company in [enter date/month/year], the reference ID of which is [enter ID]. I am writing to you to cancel my health insurance with you. This cancellation is due to my inability to pay the monthly premium since my financial conditions do not allow me to do so. Kindly cancel my insurance. I also request you to provide me with a written document confirming the cancellation and the refund of the premiums that I have paid earlier. Thank you.
Sincerely,
[Your Name]
[Your Title] -Optional-
Download Details: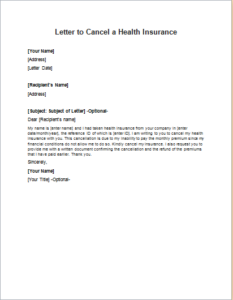 Letter to Cancel a Health Insurance

Size: 25 KB Word .doc File 2003 & later
Download
Size: 158 KB PDF File
Download
[personal use only: Not for Resale & Distribution]