Letter to Cancel Appointment for Seminar
Several times, a person or a company sets up an appointment for a seminar for any reason. Due to unexpected conditions, the company sometimes may have to cancel the appointment. This letter is written to those people whom you have invited to the seminar. Since they have been invited, it is important to inform them if you have made any decision regarding the appointment for a seminar. The news of cancellation is not good and the reader may feel unhappy to read that in the letter. Try to be polite in the letter and then tell about the cancellation of the appointment in a very gentle way.
The letter should be written briefly and unnecessary details should be omitted. To make the letter easily readable by the reader, add an appropriate subject in the letter. You can explain the reason for canceling the appointment for the seminar. It is also required to make sure that you are pointing to the right appointment. If the new date and time for the canceled appointment have been decided already, you can mention in the letter.
Mention the new details of the appointment clearly so that the reader can understand easily. If the date of the new appointment has not been decided yet, request the reader to ask for the rescheduling of the appointment after few days. It is a formal letter and there should not be any extra and irrelevant detail in the letter. The letter should be ended with the positive message.
Letter to Cancel Appointment for Seminar
[Your Name]
[Address]
[Letter Date]
[Recipients Name]
[Address]
[Subject: Subject of Letter] -Optional-
Dear [Recipient's Name],
I am really feeling very sorry to inform you that I would not be able to attend the seminar. I have taken a new job and I would not be available at the time of seminar since there is a clash between the seminar and my job timings. I know there are few people who will play the best role for me. Miss Katherine or Mr. Joe can be a very good replacement. I sincerely apologize for the cancellation. I hope that I will be there in the seminar next year.
[Your Name]
[Senders Title] -Optional-
Download Details: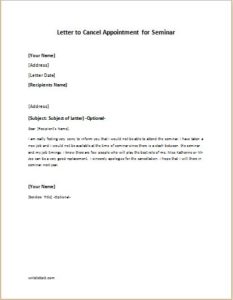 Letter to Cancel Appointment for Seminar

Size: 33 KB Word .doc File 2003 & later
Download
Size: 313 KB PDF File
Download
[personal use only: Not for Resale & Distribution]