Letter to Cancel Meeting for Housekeeping
When you have decided to cancel the meeting, and want to write the letter, then you should know that what are the primary components which are to be included in the letter. This type of letter is written when you want to cancel the meeting because of any reason. When you should cancel the meeting because of your own personal matters, then the tone of the letter should be requesting.
Try to suggest the alternative plan for the meeting very briefly. If you want to keep the letter short, you can avoid the reasons for canceling the meeting, however, if you want to provide the reasons, then you write them. Since you have told the reader about the alternative day for the meeting, it is important for you to include the details of the next meeting such as date, time, and location and some other details which are necessary for a reader to know.
The subject in the letter is one of the most important components of the letter. It can be included if you want to make the letter attractive towards the reader. With the help of the subject, it becomes easier for the reader to read the letter. Try to write the letter in clear words so that there is no ambiguity in the letter. The tone of the letter is formal and the formal letters are written briefly. End the letter on the positive note.
LETTER
Dear [Recipient's Name],
I just came to know that a meeting with our housekeeping head has been arranged by our account executives this Saturday. Since we are already having an agreement with one company to manage our housekeeping operation, I must say that there must be some mistake. We have signed a contract with that company for one year. We will look at your proposal. Sorry for the inconvenience.
[Your Name]
[Senders Title] -Optional-
Download Details: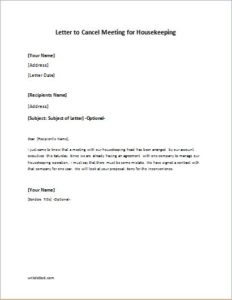 Letter to Cancel Meeting for Housekeeping

Size: 33 KB Word .doc File 2003 & later
Download
Size: 313 KB PDF File
Download
[personal use only: Not for Resale & Distribution]