Letter to Cancel Seminar Schedule
Nowadays, seminars are gaining much importance. It is creating efficiency as well as effectiveness in the required field. The seminars in educational sector bring a lot of improvement and creativity. The seminars for businesses and jobs bring new ideas and diversity. In one way or the other, they provide an aid to success in any field. Scheduling and canceling of a seminar requires a great deal of management. When a seminar is scheduled, a well-coordinated teamwork is done. It requires maximum output in minimum time. It includes location arrangements, an invitation to participants to the exact date, timings and venue information. The key to success is efficiency in the achievement of daily goals. But, sometimes it is natural that we can never put off our plans accordingly. This can occur with anyone anywhere at any time. And this leads to cancellation of our plans.
Seminar cancellation can occur due to natural disasters, unavailability of the speaker, location issues, sudden conflicts among the two parties etc. Due to this reason, it is very important to inform about cancellation to all the attendees as to avoid any inconvenience. The reason should be told. The letter should be concise. And above all, a re-scheduling plan should be informed. The dates should be mentioned.
Letter to Cancel Seminar Schedule
Springfield University
James De Clinton
17 St. Sun Set Avenue, New York.
25th March 2017
Mr. John Wilson
Vice Chancellor
Hampton Group of Colleges
41 St. Silver Crystal Avenue, New York.
Dear [Recipients Name],
On behalf of our team, we regret to inform that the seminar on "Good health is beauty "which was to be held on 10th April 2017 in Springfield University has been canceled. The reason for cancellation is the sudden accident of the University principal. She had got major injuries which would be recovered in more than half of a month. We pray for her recovery and good health. The re-scheduling will be done after two months. And, it will be informed formally to all the participants. We highly apologize for any inconvenience.
We hope for your kind cooperation.
Sincerely,
James Clinton
HOD management and science, Springfield University.
Download Details: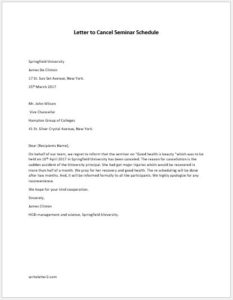 Letter to Cancel Seminar Schedule

Size: 29 KB Word .doc File 2003 & later
Download
Mobile Version: Polaris Office & Google Docs
Size: 26 KB File
Download
[personal use only: Not for Resale & Distribution]