Letter to Confirm a Renovation Agreement
For the purpose of construction or renovation, services of relevant construction companies are taken. The process goes on like this; an order is presented by the one seeking service. The service providers look into the project to see if they can do it. If the project finalizes, both the service provider and service taker agree to the terms and condition as well as expenses. An agreement letter is then signed. The last step is the confirmation of the agreement by the service taker/buyer to the service provider so that he may begin the work.
Letter to Confirm a Renovation Agreement
Dear [Recipient's name]
We had already discussed all the necessary points regarding the renovation of the hostel rooms of the academy. I requested you to send me a proper agreement with the mention of the details of the expenses, duration and the project itself. I have received your letter today. Thank you for your effort. The agreement seems perfectly fine and since you have already signed it, I am signing it now and returning a copy to you with this letter of confirmation.
I hereby confirm the agreement and allow you to begin the renovation as per the proposed date of the agreement. In case you feel something needs to be discussed further, you can call me after 5:00 pm at my personal number or can visit me at my office before 12 pm.  Thank you!
Sincerely,
[Your Name]
[Your Title] -Optional-
Download Details: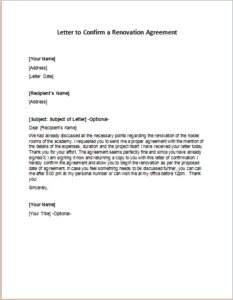 Letter to Confirm a Renovation Agreement

Size: 30 KB Word .doc File 2003 & later
Download
Size: 241 KB PDF File
Download
[personal use only: Not for Resale & Distribution]