Letter to Confirm Commitment to Meet a Deadline
There is a need to write this letter when someone wants to confirm all the commitments which had been made in the meeting in order to meet the deadline. The confirmation of the commitment is very important since it clears all the confusions and ambiguities which one can have in his/her mind after the meeting ends. The confusions are removed when you discuss the commitments and you can also put some instructions forward which you think are very important for the reader to follow. The letter, in other words, is a document which is written in order to communicate with some people so that various problems can be solved.
While you are going to discuss the problem and some solutions to solve those problems, it is better to give reference of the particular problem which you are actually talking about in the letter. The letter should include an appropriate subject in order to make it easy for the reader to understand and it should also include all the instruction which someone may need to resolve the issues.
At the end of the letter, conclude your discussion by showing the confidence for the decision that you have made for meeting the deadline. You can also anticipate the response of the reader to make the reader know what exactly you are expecting from him/her. There should not be any grammatical issue in the letter so it is better to check the letter for all the grammatical and spellings errors before sending it.
Letter to Confirm Commitment to Meet a Deadline
[Your Name]
[Address]
[Letter Date]
[Recipients Name]
[Address]
[Subject: Subject of Letter] -Optional-
Dear [Recipient's Name],
The last night meeting might have created some misunderstandings. It is important to remove all the confusions. I would like to tell you again about the decisions which were made last night in the meeting. There is a deadline of 26th September which has been given to sales person otherwise the sales areas of the company will be badly affected. The employees can also give extra time to meet the deadline. All the extra hours invested by the employees would be compensated by the company. We believe that we have a best sales team. We want to meet tomorrow at 7 a.m. so that we can think about some new ideas towards the task.
[Your Name]
[Senders Title] -Optional-
Download Details: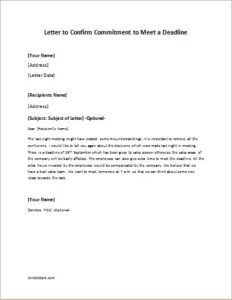 Letter to Confirm Commitment to Meet a Deadline

Size: 21 KB Word .doc File 2003 & later
Download
Size: 311 KB PDF File
Download
[personal use only: Not for Resale & Distribution]