Letter to Criticize a Tenant for not Paying Rent
For some tenants, a regular criticism from the landlord might be their favorite dose. You could be counted among the fortunate people of the world if you are a landlord of some good tenants. Of course, not all tenants are teasing but let's agree that majority is. The thing that annoys most landlords is the non-payment or late payment of rents from their tenants. Criticism letters are helpful to shake such notorious tenants so that they may adhere to a responsible attitude.
Letter to Criticize a Tenant for not Paying Rent
Peter Harbor
[Address]
[Letter Date]
Eliza Hans
[Address]
[Subject: Subject of Letter] -Optional-
Dear [Recipient's name]
It is quite annoying that you haven't paid the rent even though you have already crossed the deadline. This is not the first time that you are late. In fact, this is the third time that I am sending the notification letter to you. I have called you twice to ask for the rent and you said you will pay it within a few hours. I wonder why your few hours don't come. Please pay the rent within 2 days. I cannot tolerate this attitude anymore. I can only present two choices to you i.e. either start paying your rent in time or look for another landlord for you who could afford to bear your lack of responsibility. After this, I shall probably be writing to you a termination letter only and not another notification letter. Looking forward to your ''few hours''.
Sincerely,
Peter Harbor
[Your Title] -Optional-
Download Details: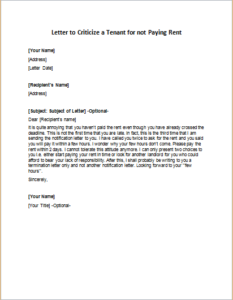 Letter to Criticize a Tenant for not Paying Rent

Size: 30 KB Word .doc File 2003 & later
Download
Size: 242 KB PDF File
Download
[personal use only: Not for Resale & Distribution]