Letter to Criticize an Employee for Poor Performance
We know that at workplaces there are different kinds of workers. It includes those who work hard, one that is average and others that perform poorly. Just like the importance of encouraging hard workers cannot be negated since it affects their performance, the value of criticizing poor workers cannot be undervalued since it is also essential to make them conscious of their performance.
If an employee is not notified and criticized for his poor performance, he will most probably continue to perform the same as long as he is getting the salary. So it is important that such employees be criticized for their work but one has to be careful here while writing a letter of criticism.
Even though the employee has been criticized rightfully it is yet to be maintained that the letter is a professional business letter so its tone should not go over harsh. There should be some motivation as well for the employee so that he/she seriously thinks to improve his efficiency.
LETTER
Dear (Recipient's Name),
I am very sad to review your work performance. Mr. [enter name] you are not performing well, not even average. You are being paid to work for the company but we do not just want work done, we want work that is done with devotion. I see that devotion is nowhere in your work. It seems as if you are only interested in finishing the tasks so to receive your salary at the end of the month. This approach is not good and this will never bring you a good name no matter who you join for work.
I hired you because I saw you're capable and I believe you are still capable. I am sure that you can perform better than our best employees if you try since the company wants devout employees so please think about your performance seriously.
I would be glad to see improvements in your work or otherwise, you'll leave me with no choice but to write a letter of final decision to you. Hope you'll improve. Thank you!
[Your Name]
[Senders Title] -Optional-
Confirmation of performance evaluation meeting
This is to confirm your performance evaluation is scheduled for Monday, June 4 at 11 a.m. in conference room A.
If you have not already done so, please be sure to submit your employee self-assessment form to your supervisor now.
Full details of the performance evaluation process are in the employee manual. If you have any questions please contact Human Resources.
Download Details: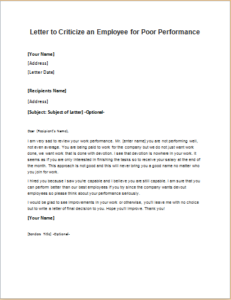 Letter to Criticize an Employee for Poor Performance
Size: 25 KB Word .doc File 2003 & later
Download
Size: 189 KB PDF File
Download
[personal use only: Not for Resale & Distribution]