Letter to Disagree with Health Insurance Benefits
If you have no idea of insurance, here's where you can get it. Insurance is basically a guarantee by the insurer that is mostly a company to compensate an insurance policyholder for the specified damage, loss or death etc. A policyholder has to pay the premium every month if he takes the policy. Anytime, when he faces a loss, the company compensates for the loss as per the conditions of the taken policy. Most people prefer to take life or health insurances over the other types of insurance. While the insurance company may compensate for a health insurance promptly, it may not do it properly and fully. The policyholder may not agree to what he is compensated. A disagreement letter can be written to the company to ask for proper insurance settlements.
Letter to Disagree with Health Insurance Benefits
[Your Name]
[Address]
[Letter Date]
[Recipient's Name]
[Address]
[Subject: Subject of Letter] -Optional-
Dear [Recipient's name]
While paying my premium every month, I always thought that I shall be happy when in the case of loss, compensation will be made. The purpose of taking health insurance was that if I face an unpleasant incident, the medical expenses may not burden my finances. After getting diagnosed with epilepsy, the doctor suggested a treatment which is very costly. Also, the medicines that are suggested are a burden on my pocket. I wrote to the company to claim my insurance. As per my health insurance, the company is due to make 100% insurance. In compliance to that, not only the medicines but also the treatment expenditure should be taken up by the company. I had already provided you with all the necessary documents. After being told that the treatment expenses are exempted by you, I am in a state of trauma. It seems to me that I had taken a wrong decision to take the policy. What benefit have I reaped after all these years of paying for policy if in the time of need the major health expenses are on my own shoulders? I want to tell you that I do not agree to your proposed settlements. This is certainly not what I deserve in compensation. You cannot exempt the treatment expenses now when the policy already clearly said "100% reimbursement for all health issues". I request you to consider this disagreement and reconsider your settlement offer in the light of my policy. Desperately waiting for your response! Thanks.
Sincerely,
[Your Name]
[Your Title] -Optional-
Download Details: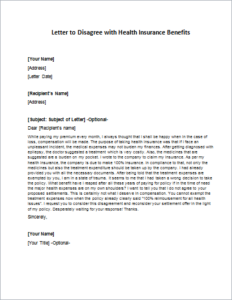 Letter to Disagree with Health Insurance Benefits

Size: 30 KB Word .doc File 2003 & later
Download
Size: 245 KB PDF File
Download
[personal use only: Not for Resale & Distribution]