Letter to Disagree with the Student Suspension
Suspension of your child because of some reason is a very unfortunate incident. If there is a misunderstanding regarding the incident of which only the parents know, a disagreement letter must be written to clarify the situation. The letter must be written in a convincing way with a respectable tone since you're dealing with the faculty and administration so, it must always be respected. The following letter is written in this regard.
Letter to Disagree with the Student Suspension
[Your Name]
[Address]
[Letter's Date]
[Recipient's Name]
[Address]
[Subject: Subject of Letter] –Optional
Dear [recipient's name],
I am Mr. Paul, father of Joey Paul who is the 6th grade at your school. I just received the suspension letter of my son for the duration of one month. I simply do not understand the situation and with all due respect, I disagree with this decision since the reason of his suspension written on the letter is completely unjustified and I am writing this letter to show my disregard for your decision.
My son would never hit anyone deliberately. I am sure there must be a misunderstanding and it should be sorted out being cool minded. Suspension of my child for a month is a very harsh decision and it will affect his studies so badly that he might have to repeat the semester.
In my son's defense, I must say that the whole incident is a misunderstanding and Joey had no intention of hitting anybody. I request you to be more lenient about the matter. I would like to meet you at your earliest convenience. Kindly contact me as soon as possible.
Thank you very much.
Yours Sincerely,
[Your Name]
Download Details: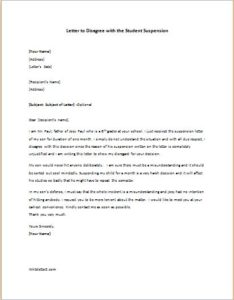 Letter to Disagree with the Student Suspension
Size: 38 KB Word .doc File 2003 & later
Download
Size: 122 KB PDF File
Download
[personal use only: Not for Resale & Distribution]