Letter to Editor about Controlling Crimes
To
The Editor
The Daily "News"
Washington
SUBJECT: CONTROLLING CRIMES
Dear Sir,
I would like to draw the attention of the people as well as the Government to a very serious problem, through the columns of your esteemed newspaper, the problem is about controlling crimes in our society.
Civilized societies in the world are being torn to shreds with heinous crimes. Organized crimes mafia is appearing, hand-in-hands, with successful coordination all over the world. Those groups are highly trained in drug trafficking, smuggling of narcotics and killing the opponents for money. The situation of crimes committing in our country is as serious as in any other country of the world. Witch hunting and personal vendetta kind sort of crimes are on the rise both in countryside and cities. Societies split into caste systems; landowners and landless people are more prone to violence and intolerance which gives birth to crimes.
Whatever efforts did the previous governments put into curtail crimes were primarily related to police and local government system. Crime must be checked at local levels. At this stage role of a police station is important. But, neither the local politicians nor the police itself sincerely tries to play their roles to curb dacites, crimes against the downtrodden sections of society. When police get politicized, it cannot play its role in curbing crimes.
Crimes against citizens, crimes against personal property, fraud, forgery misuse of immigration laws, and smuggling of narcotics are such heinous crimes. Concerted efforts at the home-front and cooperation with international law-enforcing agencies can go a long way to check crimes. Scotland Yard police of England, Gendarmerie of France, F.B.I of USA and Shurta's of Arab Countries can be asked to apprehend and execute the human smugglers. Much can be done at the home-front. Education, justice, and civility can be introduced to bring about a real change in a society. That is a long-lasting cure to control crimes.
Thanks,
Most truly.
Sarah Patrick
Download Details: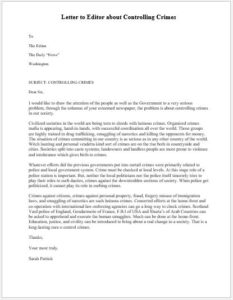 Letter to Editor about Controlling Crimes

Size: 29 KB Word .doc File 2003 & later
Download
Mobile Version: Polaris Office & Google Docs
Size: 17 KB File
Download
[personal use only: Not for Resale & Distribution]