Letter to Extend an Invitation to Join an Association
Associations are made so that people of a certain group may develop mutual cooperation and links with one another i.e., Lawyer's Association. These associations prove helpful when people want to have their demands granted or when there's any other need to stand united. Though associations are usually powerful, they're not always.
The strength of an association depends on what kind of people is a part of it. This is why small associations always try to bring "heavy" people into their group to give strength to it. They may other times invite people to get benefited from their services.
This letter can be used to invite someone to join an association.
Letter to Extend an Invitation to Join an Association
I am writing to you regarding our association [enter name] which was formed [enter year] to [enter purpose]. Currently, there are [enter number] members of our association. We're expanding it and thereby inviting more people to join us. Our association has particularly been used in taking a strong stand for the rights of our community.
We are looking for people from diverse discipline to join us so that we may benefit from their skills and may make the association a better mutual cooperation than before. For this, I would like to extend an invitation to you to join us as [enter title] of our association. In case, you'd like to know more about us, you can visit our website [www.writeletter2.com]. We're hoping to hear from you. Thank you!
Sincerely,
[Your Name]
[Senders Title] -Optional-
Invitation to join business association
On behalf of more than one hundred of our town's most dynamic and successful executives, managers, and business owners, we'd like to invite you to join the [BUSINESS ASSOCIATION].
The [BUSINESS NAME] offers education, networking opportunities, and a chance to participate in important community events as representatives of [BUSINESS] community.
We're holding an open meeting on Friday, May 18, at noon. We hope you'll join us as our guest for lunch at the racetrack Cafe in Georgetown.
If you have any questions or would like to RSVP to tell us you're coming to the meeting, please call Rachel Sabado at (555) 555-0000.
Invitation to join professional association
The Georgetown facilities engineering Association would like to invite you to a reception and dinner on Monday, July 18. We're looking for a few good men and women to join our professional organization.
We offer a wide range of training, certification, and career advancement courses as well as personal benefits including discounts on insurance and equipment. And we also are deeply committed to our community mentor program, offered as part of Lumbertown Cares.
Please call our membership chairman, Saul Curtin, to let us know you're coming to our meeting and to discuss any questions you may have.
Download Details: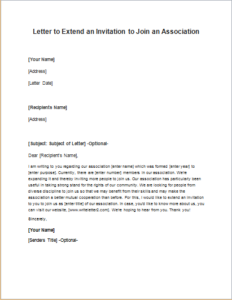 Letter to Extend an Invitation to Join an Association
Size: 25 KB Word .doc File 2003 & later
Download
Size: 172 KB PDF File
Download
[personal use only: Not for Resale & Distribution]