Letter to Request a Copy of Health Records
In order to obtain the medical records of a patient, one must make an official request to the department of the hospital. For this purpose, a letter containing all the required details is written to the specified authority in response to which the information or the medical records are then issued. This also requires the complete information of the caretaker of the patient whose medical records are requested. Following letter has written in this respect.
Letter to Request a Copy of Health Records
[Your Name]
[Address]
[Letter Date]
[Recipient's Name]
[Address]
[Subject: Subject of Letter] -Optional-
Dear [Recipient's name]
This letter has been written in reference to the patient no. 2175 [patient's name] who got discharged a week ago. I, patient's [father], am requesting a certified copy of the medical record my son has in your hospital for his further treatment abroad. His name is [patient's name] and he is [19] years old. He has brain hemorrhage stage 2 and he has been a patient at your hospital for two years. Now, he has been referred to the neurosurgeon at [Capital Hospital New York]. And thus, I request you to issue the health record of my son as soon as possible.
If you need any verification of the information about me and/or my son you can contact me on the following number [sender's number] or you can email me at the address [email address of the sender]. I will be grateful if you entertain my request soon.
Thank you very much.
Yours Sincerely,
[Your Name]
[Your Title] -Optional-
Download Details: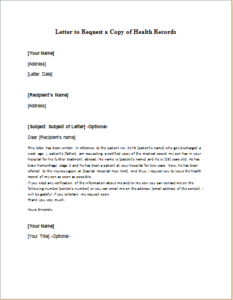 Letter to Request a Copy of Health Records
Size: 25 KB Word .doc File 2003 & later
Download
Size: 267 KB PDF File
Download
[personal use only: Not for Resale & Distribution]