Letter to Request a Correction of a Policy Error
In these days of modern technology, though most documentation is done on computer-based systems, it is still not improbable for the errors to occur. With special reference to the insurance documents, sometimes the policyholders receive insurance documents that contain errors i.e. a letter to submit premium while the person has already submitted his monthly bills, a wrong mention of reimbursement made by the company etc. Since these errors usually occur by mistake, the insurer should be informed about them as soon as they are observed so that they may be corrected in time and the expected conflicts could be avoided.
Letter to Request a Correction of a Policy Error
Dear [Recipient's name]
I finalized my policy with you last week the reference number of which is #123456. I was told that a written confirmation will be sent to me with some necessary documents. I have received that confirmation letter; however, I am confused to see the policy details that are attached. As far as I understood, according to the policy that I chose, the company was supposed to make 100% reimbursement but these documents say that reimbursement will be 60%.
I turned over pages to see if it was due to an error but everywhere 60% was mentioned. I am suspecting this has happened by mistake as according to the policy that I took, the reimbursement cannot be 60%. Kindly look into this matter and fix this problem so that we may avoid any conflicts in the future. Thank you!
Sincerely,
[Your Name]
[Your Title] -Optional-
Download Details: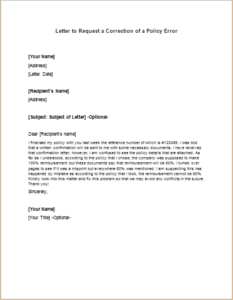 Letter to Request a Correction of a Policy Error
Size: 25 KB Word .doc File 2003 & later
Download
Size: 160 KB PDF File
Download
[personal use only: Not for Resale & Distribution]