Letter to Request a Refund or Reimbursement
Refund or reimburse is the amount of owed money which will be paid back. Refund can occur in some situations like if a person is going for vacations with family but due to the sudden situation like illness, accident or personal issues, he needs to cancel the reservation of the hotels. Due to this, the registration fees will be reimbursed. Likewise, when we order some dresses online and they do not fit, then we need a refund from the shop. Sometimes, we shop some appliances for the household with money back guarantee; we can refund them if any issue arises within the warranty. In all such cases, the refund can occur with a proof of receipt. One should have the receipt with him while requesting a refund. The receipt is enclosed with the refund letter, so that no issue may arise in the process. While writing a reimbursement letter, one should be fair and courteous enough. This is important for the reader's trust. The reason should also be mentioned.
Letter to Request a Refund or Reimbursement
Mary Ben Harris
Block 23C, Red Cross Avenue, New Hampshire.
25th March 2017
Mr. Peter Wordsworth
Chen One Luxuries and Household Store
34 St, Roundabout Avenue, New Hampshire.
Dear [Recipients Name],
I am writing to ask for the refund of the three shirts I purchased online from your Chen One store on 20th March 2017. Actually, I purchased them as a present for my husband on his birthday. I might be confirming the sizes but when I purchased them he was out of the station. The sizes of the shirts are too large. They are unfit on my husband. He was much delighted with the stuff and design but the reason is that they are unfit. I am returning them unworn in the same baggage. Enclosed with the letter is the purchase receipt. I apologize for any inconvenience if occurred. We are your regular customers and all the stuff we shopped before was perfectly suitable. Unfortunately, this happened for the first time. But, we will be shopping again soon. Please reimburse $ 80 in the account 0108234652.
I thank you for the kind response.
Sincerely,
Mary Ben Harris
Download Details: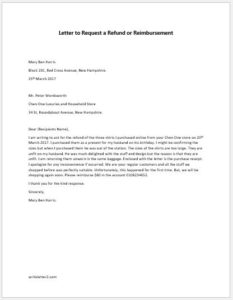 Letter to Request a Refund or Reimbursement

Size: 29 KB Word .doc File 2003 & later
Download
Mobile Version: Polaris Office & Google Docs
Size: 26 KB File
Download
[personal use only: Not for Resale & Distribution]