Letter to Request a Substitute Teacher during Vacation
In the times when you have to leave work/job of teaching for some time because of an emergency, you must inform the officials and request a substitute to act for in your place. For that matter, a letter is written to inform about your schedule beforehand. The letter should be written in a way that the reason of your absence is mentioned clearly and then you must request the administration to arrange a substitute teacher in your place to teach your students during the vacation. The following letter is written in this regard.
Letter to Request a Substitute Teacher during Vacation
[Your Name]
[Address]
[Letter's Date]
[Recipient's Name]
[Address]
[Subject: Subject of Letter] –Optional
Dear [recipient's name],
I hope this letter finds you well. My name is Prof. Isabella Robert and I am writing this letter as a history teacher at Lincoln High School. I am afraid I would not be able to attend the summer classes because of a family emergency. I apologize for the inconvenience I have caused you but, the occasion is unavoidable. I would like to request a substitute teacher to teach in my absence. I will be away for a time period of one month and I will be back at my position right after the summer break.
I will make sure to hand over the subject related material for the classes and I would appreciate if the substitute teacher supervises the tasks that I will assign to the students before going on leave. I appreciate your hard work and I hope that you will understand my position.
Thank you very much.
Yours Sincerely,
[Your Name]
Download Details: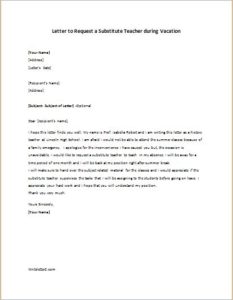 Letter to Request a Substitute Teacher during Vacation
Size: 30 KB Word .doc File 2003 & later
Download
Size: 116 KB PDF File
Download
[personal use only: Not for Resale & Distribution]