Letter to Request an Individual for Volunteer Services
Though sometimes, requests for volunteer services are made via public announcements, other times it is done by sending individuals the letter of requests. To write this a letter, make sure you keep your content such that by the end of the letter, the volunteer is finally convinced to provide his services for your cause. Keep these guidelines, while writing a request letter for volunteering.
Introduction: Your introduction is important. Introduce yourself and the project for which volunteers are required.
Background: Give a brief background if any of the cause/project etc.
Encourage: Tell the potential volunteer how his services will benefit you and the people at large so that he may find some motivation.
Compensation: Though volunteers are not paid workers, they still should be compensated in some way. Mention your form of compensation for their services either it is by presenting a letter of appreciation at the completion of the services, a public recognition of their services or any other.
Closing: As the letter is personal, so the beginning and ending must tell the expected volunteer that you're waiting for his feedback so that he may take prompt decision to join or not to join.
Letter to Request an Individual for Volunteer Services
[Your Name]
[Address]
[Letter Date]
[Recipients Name]
[Address]
[Subject: Subject of Letter] -Optional-
Dear [Recipient's Name],
My name is [enter name] and I am the [enter title] of [enter organization]. I am writing to you on behalf of our organization [enter name]. We are starting a new project next month which is about [enter details] for which we need volunteers. As we have come to know, you've already been volunteering for projects, I would like to request you to volunteer for us this time. We'll be presenting the letter of appreciation to all our volunteers by the end of the project. Hope to hear from you. Thank you!
Sincerely,
[Your Name]
[Senders Title] -Optional-
Download Details: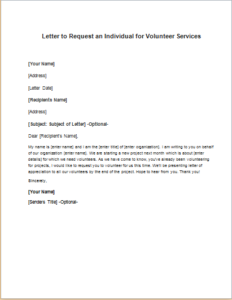 Letter to Request an Individual for Volunteer Services
Size: 25 KB Word .doc File 2003 & later
Download
Size: 172 KB PDF File
Download
[personal use only: Not for Resale & Distribution]