Letter to Request for Salary Increment
Motivation plays very important role in the life of a person. Different people have different psychology about motivation that varies person to person. Most of the time, it depends upon the threshold level set by an individual. Some people get motivated through selective jobs but in most of the cases promotions, an increment in salaries, benefits related to designation of a house, medical facilities, children education, and transport facilities may enhance the level of motivation. Among all mentioned motivation boosters, an increment in salary is the most demanded and need of the hour. Our expenses increase according to the family's needs and requirement with the passage of time. If an individual is not compensated in term of increment in salary, he may get de-motivated or may look for the other options. Any employee can raise the problem of salary increment through open forums but writing a letter to increase the salary is the best option in an individual capacity. On the other hand, an organization or company should also cater the financial problem of its employee and must ponder on any request of salary increment.
Letter to Request for salary increment
Pearl Tech Ltd.
Joseph Watson
86 St. Board Avenue, Washington
24th November 2016.
Mr. Alex Smith
Pearl Tech Ltd.
86 St. Board Avenue, Washington
Dear [Recipients Name],
I hope my letter finds you the best in health. I am writing to have a favor. I want a salary increment as it has not been advanced since last three years. My expenses are increasing day by day. I am unable to cope with them, as a family has a lot of needs and requirements with every growing day.  As I am always been a record keeper in the company. My AER is always above good and I am always an award winning employee. I perform my duties very devotedly. I never delayed my work even if I am not feeling well. I am always motivated by your generous response to all employees. Due to your kindness, I got the courage to write and request you for the salary increment as soon as possible.
I am waiting for your kind response.
Sincerely,
Joseph Watson
Pearl Tech Ltd.
Download Details: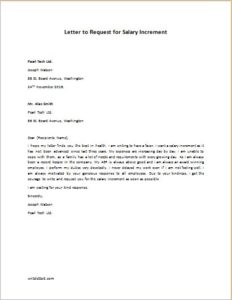 Letter to Request for Salary Increment

Size: 33 KB Word .doc File 2003 & later
Download
Size: 312 KB PDF File
Download
[personal use only: Not for Resale & Distribution]