Letter to Request Volunteers to Pack Relief Goods
Natural hazards, when come, leave a whole lot of things upside down. Resources are spoiled, habitats are destroyed, means of transport and communication are disrupted and most importantly people go homeless.
The very first thing after such traumas is to save lives of those who are left and to provide those with food and shelter who are homeless and helpless. Such situations do not come with a prior notification. When they occur, there's a need for prompt action and prompt support to provide the most important lifesaving thing i.e. food, on an emergency basis.
They have to be collected and packed without wasting time. Volunteers here are required.
A call to volunteers can be given by either sending letters to individuals or by making a public support announcement. This letter can be used to request for volunteers to pack goods.
Letter to Request Volunteers to Pack Relief Goods
As you know, due to the recent earthquake, many parts of the country are affected badly. Most people have lost their homes. To provide these homeless people with shelter and food we need volunteers on urgent basis. We want the food items to be packed which we already have collected. You are requested to help in this cause and join our volunteer team. Please respond back to this call so that we can save as many lives as we can.
For registrations call at [123-4567-8901] Thank you!
Sincerely,
Seeking volunteers
[Company Name] wants to share its greatest natural resource with the community.
In your next paycheck envelope or direct deposit confirmation, you will find a letter from Lumbertown Cares seeking volunteers to serve as teachers, mentors, and advisors for those in need.
It's a great program, and one that [Company Name] supports in many ways including corporate sponsorship. And, as we have in previous years, at the annual holiday party we will honor three [Company Name] employees for their special bonuses, paid vacations, and other benefits.
If you want to get in touch with Lumbertown Cares immediately, you can contact them at (555) 555-0000 to set up an appointment.
Download Details: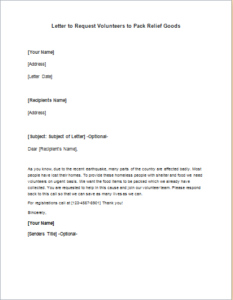 Letter to Request Volunteers to Pack Relief Goods
Size: 25 KB Word .doc File 2003 & later
Download
Size: 178 KB PDF File
Download
[personal use only: Not for Resale & Distribution]
---
Related Letters
Seeking contributions of canned goods for food pantry
As we approach the holiday season, it is once again time for our annual [Company Name] cannery for the community.
On Tuesday, December 21, members of the Board of directors and senior executives of the company will be at all entrances to our Lumbertown offices collecting sealed cans and other packaged food to be redistributed through the Community Food Pantry.
Employees not at work on that, and those of you at our sales and manufacturing offices around the world are welcome to make cash donations; contact the Payroll Office at extension 7898 to arrange for an automatic deduction.
And thank you, in advance, for thinking of others less fortunate than us.