Letter to Respond to a Complaint on Student's Safety
Complaints can be made by the common public regarding student's security. They can also be filed by parents, teachers or other people of concern. When a person complains he directs your attention to a matter that had gone unnoticed by you and needs attention to pay off. The purpose of complaint in such matters particularly is to inform the authorities that something needs to be corrected. Therefore, when a person fulfills his responsibility of explaining to you the matter of concern, it is then upon you to respond to the complaint in as a gracious manner as you can, encouraging the sender and assuring him that his letter will be taken seriously. Below is a sample of a letter that can be written in response to the complaint of student's security.
Letter to Respond to a Complaint on Student's Safety
[Your Name]
[Address]
[Letter Date]
[Recipients Name]
[Address]
[Subject: Subject of Letter] -Optional-
Dear [Recipient's Name],
I begin this letter with my heartiest thanks to you for your concern regarding our student's security. I received your letter last [enter day] mentioning a serious issue that had been unfortunately going unnoticed from our attention. You mentioned in your letter that [enter complaint briefly]. Mr. [enter name], you are very much right in your say. We should take this matter seriously and should take steps to reduce security risks to our students as promptly as we can. I have called a meeting of our main staff for discussion. I am once again grateful for your most sincere concerns. God bless you. Thank you very much!
Sincerely,
[Your Name]
[Senders Title] -Optional-
Download Details: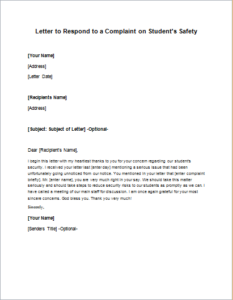 Letter to Respond to a Complaint on Student's Safety
Size: 25 KB Word .doc File 2003 & later
Download
Size: 169 KB PDF File
Download
[personal use only: Not for Resale & Distribution]