Letter to Suggest a Solution to a Subordinate's Problem
The letters in which you want to involve the solution to somebody's problem should be written in detail. If you have a suggestion regarding the problem, you can write a letter containing the suggestions and then send it to multiple people. It is important that you keep your suggestion to work like a suggestion. Do not make it a reminder and put your ideas in a positive tone. Sometimes, the explanation of the solution is required which is not possible without giving the background of the problem so, including the background in the letter is advisable. You can also suggest the course of action suitable to get the desired results. Your suggestions may have many benefits for the person and the company. State the benefits so that your suggestions are not overlooked by the reader.
At the end, tell the reader that how they can follow your suggestions and what steps can be taken. Also, tell them where to contact if they feel confusion. The suggestions should not be suggested in such a way that they look pressurizing.
LETTER
Dear [Recipient's Name],
I have been observing your office work and I thought to put some suggestions before you. I hope that these suggestions will not be unwanted. I have seen you are a very talented person and your team is very hard working. The only problem which I have seen in your office is time management. I think that if you learn to manage your work properly then you get success in your professional life. Good luck for your work.
Sincerely,
[Your Name]
[Senders Title] -Optional-
Download Details: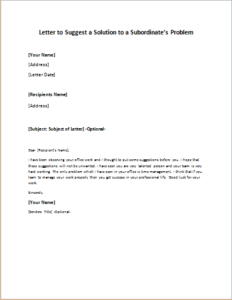 Letter to Suggest a Solution to a Subordinate's Problem
Size: 25 KB Word .doc File 2003 & later
Download
Size: 193 KB PDF File
Download
[personal use only: Not for Resale & Distribution]