Letter to Thank Someone for the Safe Package Delivery
Thanking people for little things leaves a long-term impression. While you may not think it necessary to thank someone for delivering or sending you a safe package, you should still adhere to this practice of thankfulness. And there are reasons; Imagine if you were parceled with a damaged product because of the improper packaging, would you have complained the sender? Of course! Then think on factual grounds if you should thank him for safe package delivery. Thank yous not only boost the energies and potentials of the vendors, service providers but also encourage them to make the progression from a better quality to the best.
Letter to Thank Someone for the Safe Package Delivery
[Your Name]
[Address]
[Letter Date]
[Recipient's Name]
[Address]
[Subject: Subject of Letter] -Optional-
Dear [Recipient's name]
I am writing to you to inform you that I have received the parcel. I have just opened it and am so excited to see that it is totally safe. I desperately wanted to have this pair of very delicate table lamps but I feared to order lest they break during delivery. Because I could not stop loving these delicate lamps, I finally thought to place an order. I was not concerned with their heavy cost since all I wanted was these lamps in my house. I am so excited after placing them in my drying room. They are looking so beautiful and their colors have also matched with the color theme of my drying room. I want to thank you wholeheartedly for making possible this safe delivery and thus fulfilling my wish. Thank you very much and have a wonderful day!
Sincerely,
[Your Name]
[Your Title] -Optional-
Download Details: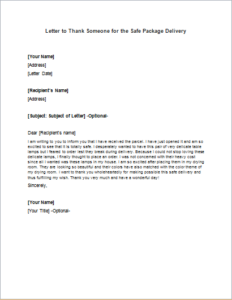 Letter to Thank Someone for the Safe Package Delivery

Size: 30 KB Word .doc File 2003 & later
Download
Size: 162 KB PDF File
Download
[personal use only: Not for Resale & Distribution]