Letter to Welcome a Client for Opening an Account
Clients are no doubt, valuable. They are the ones who make your business profitable since, without them, you cannot think of making any profit. It is, therefore, important that your relationship with your clients remain strong no matter in which professional spheres you are serving. With the ever increasing competition, the same services are provided by many different people. What makes the service successful is how much it is appreciated by the clients. The clients appreciate services when they feel satisfied and valuable. It is among business tactics to let the clients know that they are valuable for you. Letter to welcome a client for opening an account is one such letter. In this letter, the service provider welcomes the client and introduces him to the services that the client will be able to enjoy. Some services offer special packages for the new clients too in order to not let them go away.
Letter to Welcome a Client for Opening an Account
Selina Jet
[Address]
[Letter Date]
[Recipients Name]
[Address]
[Subject: Subject of Letter] -Optional-
Dear [Recipient's Name],
Congratulations for opening an account with us. I welcome you graciously and ensure that this will be the best of your experience with regard to keeping an account. Being your customer service provider I will be available to serve you anytime during the office hours. I would also like to inform you that for opening your account with us, we have provided you with [enter offers if any]. Please find the enclosed documents regarding our terms and conditions, services and packages.
Your account is now active. For any further information, please contact us at 123-4567-8901. We are hoping to have a successful client-server relationship with you. Thank you!
[Your Name]
[Senders Title] -Optional-
Download Details: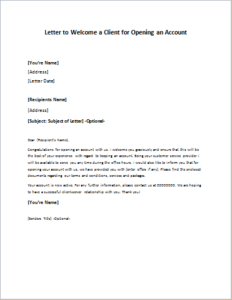 Letter to Welcome a Client for Opening an Account
Size: 26 KB Word .doc File 2003 & later
Download
Size: 206 KB PDF File
Download
[personal use only: Not for Resale & Distribution]