Monthly Meeting Announcement Letter
Monthly meetings are arranged in almost every organization to have a review on the performance of the company and the staff throughout the month. The meetings are arranged once in every month. This meeting is usually expected by the staff member and the purpose of writing is to remind the staff and other stakeholders about the meeting. Adding the subject in the letter makes it easier for the reader to get the information about what has been mentioned in the letter.
All the details of the meeting should be mentioned in the letter including the date, time, location and the agenda of a meeting. The agenda lets the participants of the meeting make points which they want to discuss in the meeting. Inform the reader of the letter about the date, time and location of the meeting in clear words. You can give the details about the agenda of the meeting within the letter or you can also attach the agenda with the letter as a separate page.
If the agenda is based on few points, there is no need to attach it to an additional page with the letter. If this meeting is related to the previous meeting or you want to review the same points then you can directly tell the reader that you are going to discuss the same points. In that case, you can briefly describe the agenda. End the letter with the positive tone and make the reader know that their presence in the meeting is very important.
LETTER
Dear [Recipient's Name],
Our monthly meeting related to employees training and other affairs of the company will be held on coming Thursday at 1 p.m. We shall discuss some new policies which we want to be implemented by the end of this month. Some new rules and regulations which we have imposed will also be discussed. We will review our policies and will also determine the penalty in case of violating our any rule. We expect to see you in the meeting.
[Your Name]
[Senders Title] -Optional-
Download Details: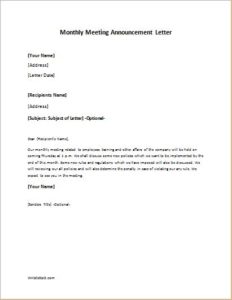 Monthly Meeting Announcement Letter

Size: 33 KB Word .doc File 2003 & later
Download
Size: 307 KB PDF File
Download
[personal use only: Not for Resale & Distribution]