New Employee Welcome Letter
Giving a warm welcome to the loved ones increases trust and makes relations stronger. Welcome is a sign of good gesture in the eyes of the guests.
When an employee gets a job in an organization, s/he is also greeted with a welcome letter. It shows the graciousness of the organization. And it is the first and easy step to boost the morale of the employees.
An employee welcome letter can be written in many ways. Such letters give a warm welcome. It can also contain orientation details. It can also contain the job title details etc. employee work schedule can also be given. The aim of this letter is to give a cozy feeling to the new employee on behalf of a new organization and new work environment.
A new employee welcome letter is as follows. It includes the welcome notes, the orientation schedule, and titles granted. Necessary amendments can be made.
The Letter
Dear Mr. /Ms. [NAME HERE],
I am much glad to welcome you to [name of company]. Our organization has an outstanding record in a friendly environment. So, I hope you will feel immense pleasure in your work.
Employee orientation is going to be held on [date/time/year]. Your job titles and review paper of the responsibilities are enclosed with this letter. This orientation is much helpful in understanding the work environment. It will also help you understand how to cope in various specified situations. The dress code is semi-formal.
I am sending along with the names and contact numbers of your co-staff who will be working along with you. They all welcome you warmly with best wishes. They are planning to give you an informal welcome outside. This will help you in acquaintance.
The schedule of the first two weeks will be handed over to you on the date of joining. The document of joining date along with terms and policies will get signed on the orientation day in the office of CEO. You will be given a copy of the form on the same day.
If you have any queries; you can contact me without hesitation.
Truly,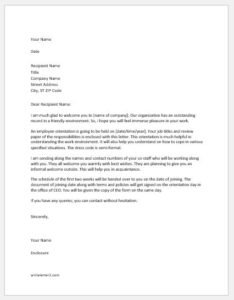 New Employee Welcome Letter

Size: 31 KB Word .doc File 2003 & later
[personal use only: Not for Resale & Distribution]