Notification Letter about Stopped Payment due to Poor Work
If you want quality work, do not compromise on it by accepting quality less work. Especially, when one has to pay for the services that he acquires, it seems in no way convincing if he relies upon to accept the quality less work with the equal price of what the quality work should be. If a customer or client is not satisfied with the work, he can either cancel his contract or stop the payments until the work is completed fully and satisfactorily.
Notification Letter about Stopped Payment due to Poor Work
[Your Name]
[Address]
[Letter Date]
[Recipient's Name]
[Address]
[Subject: Subject of Letter] -Optional-
Dear [Recipient's name]
After my contract with your company to set the sewerage and water lines in my new house that are under construction, I was satisfied that the work will be done within a month since I had heard a good name for your services. According to the contract, the material as well as the services was provided by you and I shall have to pay for the work only. I am sorry to say but I am disappointed with the work provided until now. I am neither satisfied with the quality of plastic pipes nor with the workmanship. I don't see your employees devoted. It seems as if they wait for the day to end and want to run away quickly. This is probably the reason they are slow too. I am so much concerned about my new house and cannot tolerate such nonserious employees. As I have mentioned that I am also not satisfied with the quality of the material being used, I think the best solution for me at the moment is to stop the payments that I am making on daily basis. I will not be paying a penny more unless you improve the quality of material and your employees do the work that satisfies me. It is up to you if you wish to cancel the contract with me, however, I do not want cancellation rather an improvement in work. Looking forward to seeing it, Thank you!
Sincerely,
[Your Name]
[Your Title] -Optional-
Download Details: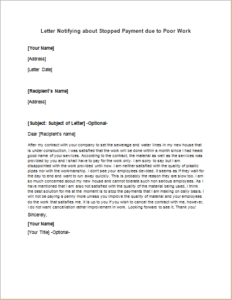 Notification Letter about Stopped Payment due to Poor Work
Size: 29 KB Word .doc File 2003 & later
Download
Size: 162 KB PDF File
Download
[personal use only: Not for Resale & Distribution]