Notification Letter Regarding an Error in Delivery
You may disagree with what you've been delivered as a result of your placed order. It might be an incomplete delivery, a faulty delivery, a damaged delivery etc. For all such cases, the seller can be written a disagreement letter to tell your concerns regarding the error in delivery. In the cases where you deserve a reimbursement, a demand for the reimbursement can also be made. However, while writing any complaint or disagreement letters it should be kept at the back of the mind that mistakes are made by everyone so such errors of delivery or that of buying selling should be dealt only as mistakenly made errors. It is nor professional neither ethical to abuse or threat the sellers for such mistakes.
Notification Letter Regarding an Error in Delivery
[Your Name]
[Address]
[Letter Date]
[Recipient's Name]
[Address]
[Subject: Subject of Letter] -Optional-
Dear [Recipient's name]
Thank you for the delivery of the parcel that I booked on [DATE HERE] in time. I have received the parcel; however, there is something towards which I would like to draw your attention. When I placed my order of colored pencils and markers, I requested that each piece of color pencil box and marker pack be packed together. These way 50 packs were supposed to be delivered. I needed these to gift to my students on result day so I wanted them in the gift packing. This delivered parcel is different. All the pencil boxes are packed in one cover while all the markers are in the other. When I made the payment, I had paid for the packing too. Since they are not packed, kindly refund the packing dues so that I may buy the packing and pack them myself.
Nonetheless, thanks to you for your services.
Sincerely,
[Your Name]
[Your Title] -Optional-
Download Details: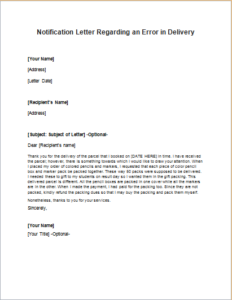 Notification Letter Regarding an Error in Delivery
Size: 27 KB Word .doc File 2003 & later
Download
Size: 161 KB PDF File
Download
[personal use only: Not for Resale & Distribution]