Project Feasibility Study Invitation Discussion Letter
This letter is required to be written when a company has planned to start a project and want to start the project feasibility study. To conduct the study successfully, it is required that all the staff members of the company particularly those people who are participating in the project feasibility study should discuss the matters related to the study so that the study can be made successful. You should add the subject in the invitation letter so that the reader can know what the letter is about.
The agenda of the meeting and the matters which are to be discussed in the meetings should also be told in the letter beforehand. The advantage of telling this in advance is that the person who is being invited can mentally prepare himself for the meeting and he can also prepare several notes on the points which he wants to be discussed in the letter. The purpose of the meeting should be discussed in clear words. The most important detail of the letter is the time, date, location and other details of the meeting.
The reader should be given the feeling through the letter that it is very important for him to attend the meeting. The letter is usually formal and should be written to the point. All the unimportant information should be omitted from the letter. At the end, you can add positive notes and tell that you expect the presence of the reader in the meeting.
LETTER
Dear [Recipient's Name],
As you know we are commencing a feasibility study of a project to check the financial, technical and economic growth of the company. We want to make this study successful and for this, we want every participant of the company to attend the meeting and to discuss important matters with us related to the feasibility study. Please write us back when you receive the letter. We hope to see you in the meeting.
[Your Name]
[Senders Title] -Optional-
Download Details: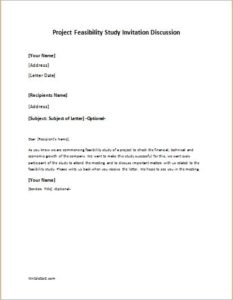 Project Feasibility Study Invitation Discussion Letter
Size: 21 KB Word .doc File 2003 & later
Download
Size: 311 KB PDF File
Download
[personal use only: Not for Resale & Distribution]