Reference Letter for Adoptive Parents
Child care institutes give abandoned or parentless children to foster parents either for a temporary period or permanently. The institute, however, wants to make sure that the people in whose custody they're giving the child are reliable people and will be able to take the best care of the child. Referral letters are sometimes written for this purpose. A third person speaks in the favor of foster parents/adoptive parents and refers them as reliable and trustworthy so that it can work as a satisfactory document for the relevant institute. Note that like other referral letters, a referral letter for adoption purposes should also be avoided if you don't find the expected adoptive parents eligible for adoption since this is the matter of a life.
Reference Letter for Adoptive Parents
[Your Name]
[Address]
[Letter Date]
[Recipients Name]-optional
[Address]-optional
To Whom It May Concern
Dear [Recipient's Name],
My name is [enter name]. I am residing in [enter place] and working at [enter organization] as [enter title]. Mr. & Mrs. [enter name] happens to be my family friends and I know them since my childhood. Even after many years of marriage, they don't have any kids and I have come to know that they want to adopt a child from your center which is quite pleasing to hear. Kindly accept my referral in their favor. I assure you that both of them are kind enough to take care of the adopted child very well and will give him/her an extraordinary love since they don't have a kid of their own. For any further confirmations, you can contact me at [123-4567-8901].
Sincerely,
[Your Name]
[Senders Title] -Optional-
Download Details: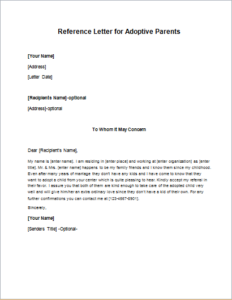 Reference Letter for Adoptive Parents
Size: 25 KB Word .doc File 2003 & later
Download
Size: 182 KB PDF File
Download
[personal use only: Not for Resale & Distribution]