Rejection Letter to a Vendor Regarding his Offer
A vendor is a person or a company that sells his products or services. Businesses or individuals sometimes extend offers to other companies to sell their products or to make offers regarding their services. The offers are made on the routine basis in the business sphere; however, it is not necessary that an offer is always accepted. The potential vendees often reject the offers if they don't find them compatible to their finances or are not convinced by the vendor's offer. To write rejection letters in such cases is among the business norms. By writing a rejection letter, a vendor is formally informed that his offer has not been accepted. The reasons are not always mentioned in a rejection letter but it is suggested to write the reasons for rejection so that the vendor may know why he has been rejected.
Rejection Letter to a Vendor Regarding his Offer
[Your Name]
[Address]
[Letter Date]
[Recipient's Name]
[Address]
[Subject: Subject of Letter] -Optional-
Dear [Recipient's name]
We received your letter regarding your offer to sell your products [enter details] on 10% discount. Although the offer was handsome I am sorry to inform you that we are not accepting it. The primary reason is that we are not dealing with these types of readymade products anymore. Since we have incepted our own production unit, we are more interested in raw material than in ready made products. This letter is meant to present to you our formal excuse so that you may extend your offer to other potential vendees. Thank you!
Sincerely,
[Your Name]
[Your Title] -Optional-
Download Details: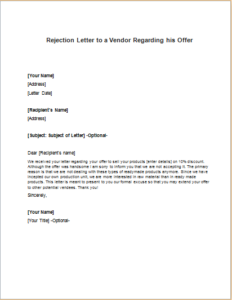 Rejection Letter to a Vendor Regarding his Offer
Size: 25 KB Word .doc File 2003 & later
Download
Size: 161 KB PDF File
Download
[personal use only: Not for Resale & Distribution]